Where the Wild Things Are


















Embark on a one of a kind tasting room, outfitted with trophies from a lifetime's worth of adventure.
Inspired by the historicism, beauty, and luxury of French hunting lodges, the tasting room inspires images of a time gone by. Nestled in the midst of surrounding vineyard and centuries old oaks, it evokes a classicism and indulgence often unfound in Paso Robles.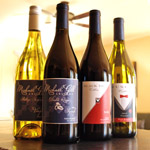 Enter to find yourself greeted by the marks of fine craftsmanship: warm wood, stone, and marble, and collection of art that reflects an appreciation for international travel and timeless beauty. Sip the velvety softness of a luscious, limited allocation, low production wine while gazing out at an unparalleled landscape from the well-appointed patio.
Open Friday-Sunday and by appointment